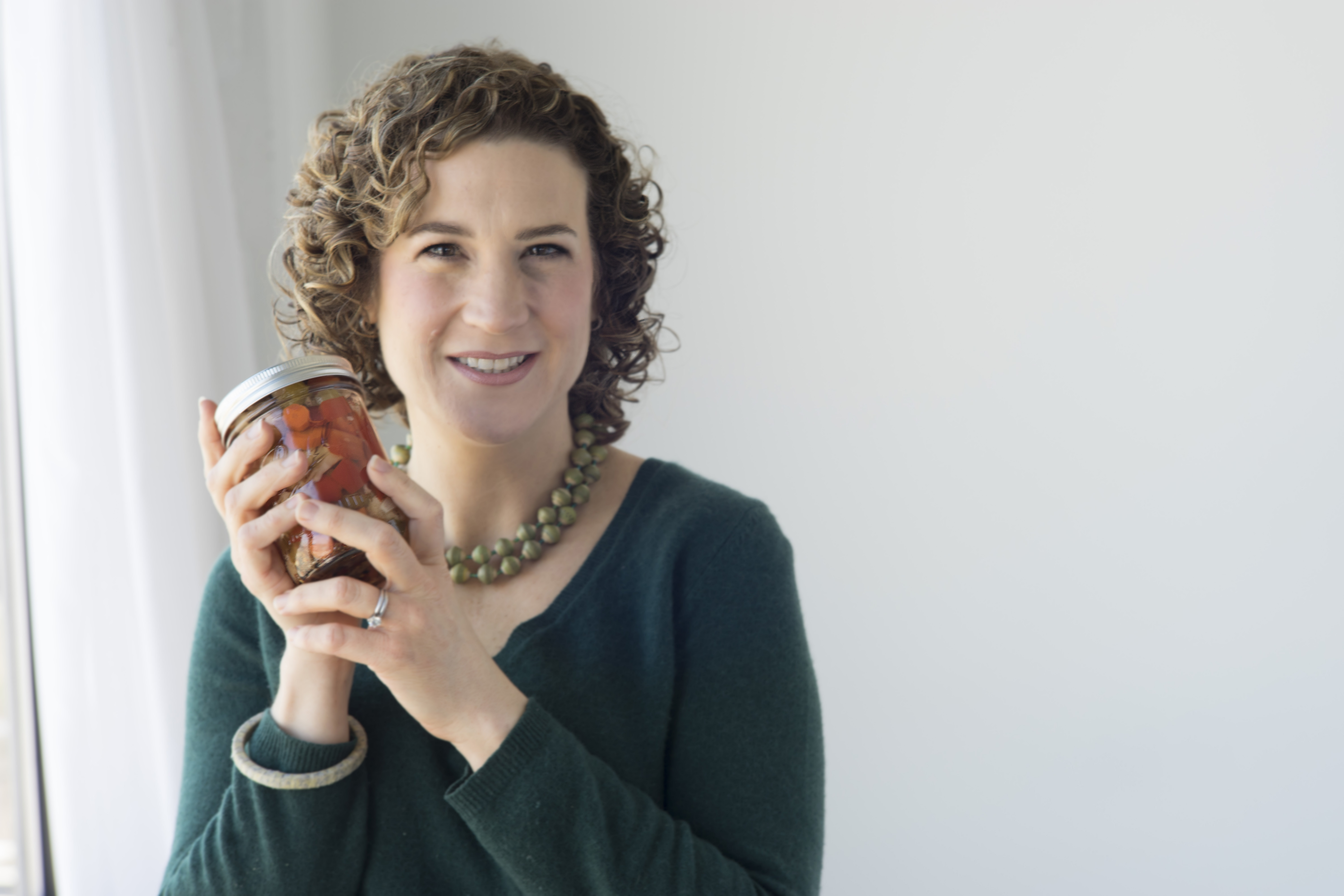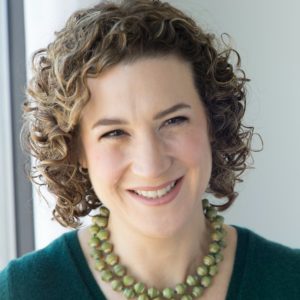 An Ivy League-educated lawyer turned food writer, Emily Paster brings passion, a sharp intellect and attention to detail to her cuisine. An expert on Jewish food, Emily respects the traditions of both Ashkenazi and Sephardic cooking, but is willing to break the rules in search of the best flavor — for example, making Olive Oil Ice Cream instead of fried doughnuts for Hanukah or lightening up her grandmother's kreplach recipe with chicken instead of brisket. Her time living in Paris inspired her lifelong exploration of Jewish foodways around the globe and today translates into modern scratch recipes that appeal to contemporary palates.
Among Emily's fondest childhood memories are the elaborate dinners prepared by her grandmother for the Jewish holidays—meals that, in an interfaith family, were short on religion but long on mouth-watering Ashkenazi food. A year spent as a student in Paris living with a Sephardic family opened Emily's eyes to the wider world of Jewish cuisine—making both travel and building community through food a priority in her work and life.
Today, Emily travels the world in search of extraordinary food. Emily has sampled fry jacks at an open-air restaurant in Belize, Chinese soup dumplings in a suburban Vancouver mall food court, beef heart anticuchos on a Peruvian horse ranch, trout poached in beeswax at a Michelin-starred restaurant in Vienna and reindeer with cloudberries at a food hall in Stockholm. At home in Chicago, Emily's culinary and DIY adventures are inspired by the city's diverse neighborhoods, its global food markets and the bounty of Midwestern farms — whether she is feeding her family of four, hosting a Yom Kippur breakfast for twenty or developing a new recipe for an assignment. Emily's recipes and writing have appeared in such print and online outlets as O the Oprah magazine, Midwest Living, Allrecipes, Plate, Food52, and more.
When Emily's daughter was diagnosed with multiple food allergies as a baby, Emily began preparing much of the family's food from scratch. This experience lead to a deep dive into the world of canning and preserving. Today, Emily is a nationally recognized expert on canning and fermentation and teaches classes and workshops all over the country. Emily's 2017 cookbook, The Joys of Jewish Preserving (Harvard Common Press) marries her passion for Jewish cuisine with her knowledge of home food preservation. The recipes in The Joys of Jewish Preserving include both Ashkenazi and Sephardic-inspired flavors and update traditional Jewish preserving for contemporary palates.
Inspired by all the accomplished home cooks in her life, from her grandmother to her French hosts, Emily aspires to create a greater sense of community through cooking and the sharing of food. With her 2016 cookbook Food Swap: Specialty Recipes for Bartering, Sharing & Giving (Storey), Emily encouraged home cooks, bakers and gardeners to trade and barter their homemade and homegrown foods, form friendships, and share skills. In her classes and demonstrations, Emily turns a roomful of food lovers into an engaged community even if only for a few hours.
Emily wants food to taste as good as it possibly can. If she seeks out local, seasonal produce at the farmers' market, it is because nothing is more delicious than a perfect, ripe peach or sweet Illinois corn picked that morning. If Emily takes the time to make something from scratch—and advises you to do the same—it is because the results are worth the effort. Like the former lawyer she is, Emily always makes a compelling case for why you should follow her advice in the kitchen. Why buy the expensive olive oil? Why make your own jam? Why serve something new this Passover? Emily will convince you.
FAQ
Who inspires your cuisine?
My inspirations include my grandmother Hortense Zeltner Paster, who was a wonderful Jewish home cook. Her gefilte fish, matzo balls and chicken fricassee are the stuff of legend. She was a gracious hostess and always set a beautiful table. My aunt Ann Brody Cove — who has had a long and storied culinary career as a caterer, restauranteur, and consultant — is my culinary hero because, like me, she is self-taught. From everyone in my family, I learned that Jews don't just eat to live; we eat because food is a delight and a pleasure. I also credit my French host family with teaching me about Sephardic cuisine and opening my eyes to the breadth and variety of Jewish food. Today I draw inspiration from chefs and food writers such as Yotam Ottolenghi, Michael Solomonov, Jenn Louis. Marisa McClellan, Leah Koenig and many more.
What is your favorite food?
My favorite food in the whole world is my grandmother's potato salad. I almost never get to eat it anymore because it has a mayonnaise dressing and my husband and kids loathe mayo. It's a simple recipe but so delicious and reminds me of my childhood. When my Aunt Ann owned a Jewish deli in Washington DC in the 1980's, she served Grandma's potato salad to her customers. The secret is to sprinkle the potatoes with apple cider vinegar while they are still hot. The potatoes will absorb the vinegar and become tangy and flavorful from the inside out. The dressing is just more apple cider vinegar and mayonnaise and we add red onion, green pepper and parsley for color. I wish I had some right now!
My favorite dessert are Halfway Cookies, something my maternal grandmother used to bake. Imagine this: a layer of cookie dough, a layer of chocolate chips and on top, a layer of brown sugar meringue. The best bar cookie in the world! And so sweet, I get a cavity just looking at them.
What is your guilty pleasure food?
I have a lot of them. Mint chocolate chip ice cream. Sour Patch Kids. A Maxwell Street Polish from Portillo's. But if a meteor were hurtling towards Earth and we had an hour to live, I would sit down with a bag of Ruffles and some sour cream dip and go to town. And I don't care what anyone says, no one will ever, EVER get me to stop drinking Diet Coke.
What do you do when you are not cooking, eating or writing about food?
Reading about food? It does sometimes feel like food is all that I think about. But when I am not in the kitchen or at my desk, I knit, study Spanish and practice Hatha yoga. I also take voice lessons and occasionally get up on stage with a band and belt out classic 80's tunes, much to my children's horror.
What's my favorite country to visit and why?
My favorite country to visit will always be France. I have loved France since I first set foot on its shores at the age of 12, having spent the previous school year studying the Middle Ages. A history nerd even at such a young age, I dragged my family to see the Bayeux Tapestery, the abbey where Eleanor of Aquitaine is buried and Mont St. Michel. Later, French was always my favorite subject in school and I even majored in French literature in college. I love the language, the food, the history and even that notorious Gallic fatalism. I am lucky to have friends in France, some whom I have known since I was a teenager, so when I am there, I don't feel like a tourist. I feel like I am returning to a familiar place.
Lately, I have really enjoyed traveling to Central and South America and putting my Spanish lessons to use. There is so much history, culture and natural beauty in that part of the world and the cuisine is phenomenal. So far, I have been to Peru, Argentina, Costa Rica, Guatemala and Belize and hope to visit many more places. Best of all, when I travel to South America, there is no jet lag!
What's one thing no one knows about me?
I get seasick just looking at a boat! I don't think I have ever been on a boat without throwing up. I would love to visit the Galapagos Islands someday but I honestly don't think my stomach could take it. I was even seasick when I visited Venice. The whole city seemed to me to be swaying. Ugh!