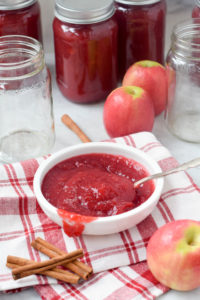 All through the fall months, my family eats apples like they are going out of style. We put them in salads; we eat them with cabbage and use them as a savory stuffing for chicken. And of course, I do my best to preserve local apples while they are in season by turning them in apple butter and homemade applesauce.
Making applesauce is particularly special for Jewish families like mine because, come Hanukkah, we need applesauce to top our latkes, the potato pancakes that are the centerpiece of our holiday meal. And homemade applesauce, especially when made with local heirloom apples, is vastly superior to store-bought.
I like to combine local apples with another fall crop: cranberries. Nearby Wisconsin is one of the largest cranberry-growing states in the country so I am able to buy locally-grown cranberries at my farmers market. The cranberries add tartness and a beautiful rosy color to this applesauce.
I always make this crimson-hued applesauce in September when whole cranberries and heirloom varieties of apples are readily available at farmers' markets, and put up several jars to accompany our Hanukkah latkes in December. But if you are not into preserving, you can make this cranberry applesauce fresh for your Hanukkah celebration using apples and cranberries from the grocery store. Everyone will love this beautiful rosy spread on top of their Hanukkah latkes – even the sour cream people will want to try it.
Homemade Cranberry Applesauce
4 lbs. apples
4 cups cranberries, fresh or frozen (not dried)
2 cups water
1/2 cup lemon juice
1 3/4 cup sugar
1/2 tsp cinnamon
1/4 tsp cloves
Peel, core, and roughly chop the apples. Combine the apples, cranberries, water, and lemon juice in a large saucepan.
Bring the liquid to a boil, turn down the heat to low and simmer the apples, covered, stirring occasionally.
When the apples are tender, about 30 to 45 minutes depending on the varieties you use, remove from the heat. Mash the apples with a potato masher. For a smoother texture, purée with an immersion blender but leave some chunkiness.
Add the sugar and spices and return mixture to a simmer, stirring to dissolve the sugar and distribute the spices.
Ladle the sauce into the clean, warm jars and refrigerate until needed.