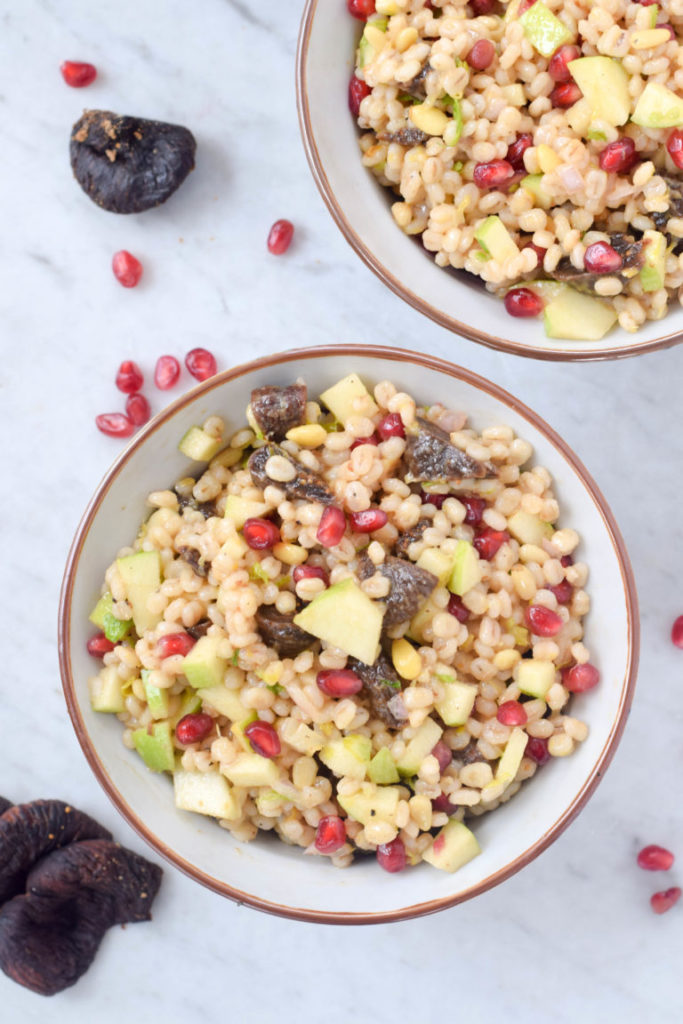 Every year, in the depths of winter, the Jews celebrate a special new year's celebration just for the trees. This Jewish version of Arbor Day is known as Tu B'Shevat and it is a holiday that has become trendy as of late, as more and more Jews reaffirm their commitment to sustainability and environmental stewardship.
Tu B'Shevat was traditionally a minor Jewish festival at the beginning of the Biblical agricultural cycle known as the New Year for trees. In ancient times, worshippers brought fruit offerings to the temple on this day. During the Renaissance, Jewish mystics created a new ritual to mark the festival with a meal that was modeled on a Passover Seder. At this meal, participants ate fruits and grains associated with the land of Israel, including wheat, barley, grapes, figs and pomegranates, and drank ceremonial glasses of wine. Sephardic Jews continued to celebrate Tu B'Shevat for centuries with feasts and visiting while the Ashkenazis Jews, for whom Tu B'Shevat fell in the depths of winter, barely marked it at all.
Today, most American Jews think of Tu B'Shevat, if they think of it at all, as Jewish Arbor Day. Many people mark the day by planting a tree or donating money for a tree to be planted in Israel. It has become a day for affirming the Jewish people's commitment to environmental stewardship. As a result, some families and congregations have taken to hosting a contemporary version of a Tu B'Shevat seder focused both on the tradition of eating many different fruits, especially those associated with the land of Israel, and also on sustainability.
In honor of the holiday, I developed a seasonal Tu B'Shevat recipe to incorporate many traditional Biblical foods, like barley, figs and pomegranates. If you've never cooked with barley before, it is time to get to know this ancient grain with its nutty flavor and toothsome texture. When cooked in soup, barley breaks down, becomes creamy and acts as a thickener. And that's probably how most of us think of it. But when served in a salad, the grains stay distinct and retain a certain chewiness.
In this recipe, pearl barley — which cooks up quicker than hull barley — is married with sweet dried figs, tart green apple and jewel-like pomegranate seeds. All of these fruits are especially meaningful in Judaism. Jews consider figs to be particularly holy because they were one of the seven staple foods, known as the Seven Species, eaten by Jews in the land of Israel during Biblical times. Mentioned in both the Bible and the Song of Songs, pomegranates play a significant role in Jewish literature and folklore. Legend has it that a pomegranate contains 613 seeds, the same number as the number of commandments in the Torah.
Whether you are Jewish or not — whether you celebrate Tu B'Shevat or not — this wintertime barley salad will certainly be a hit at your house. The combination of fresh and dried fruits, pine nuts, chewy barley and the sweet-tart lemony dressing means lots of delicious flavor and interesting textures. Plus, the bright colors are really eye-catching.
Needless to say, as you can serve this barley salad warm or at room temperature, this is a lovely dish to bring to a potluck or other gathering at any time of the year.
Pearl Barley with Figs, Apple and Pomegranate Seeds
1 1/2 cups pearl barley
1 green apple such as Granny Smith, cored and diced
1 pomegranate, seeds removed
2 cups chopped dried figs
1/2 cups pine nuts, lightly toasted
1/4 cup flat-leaf parsely or celery leaves, minced
Dressing
1 shallot, minced
2 lemons
1 tsp honey
1/3 cup extra virgin olive oil
Salt and pepper to taste
Combine the barley with 4 cups of water and a pinch of salt in a large saucepan.
Bring to a boil over high heat, then cover and reduce heat to a simmer.
Cook until barley is tender yet still chewy and most of the water has been absorbed, 25-35 minutes. If necessary, drain and fluff with a fork. Set aside.
While the barley is cooking, prepare the dressing by whisking together the shallot, the zest and juice of both lemons, the honey and the olive oil.
Combine the apple, pomegranate seeds, dried figs, and pine nuts in a large bowl. Add the barley and the dressing and toss to combine. Add the parsley or celery leaves and season well with salt and pepper. Toss to combine. Taste and adjust seasoning.
Serve warm or at room temperature.