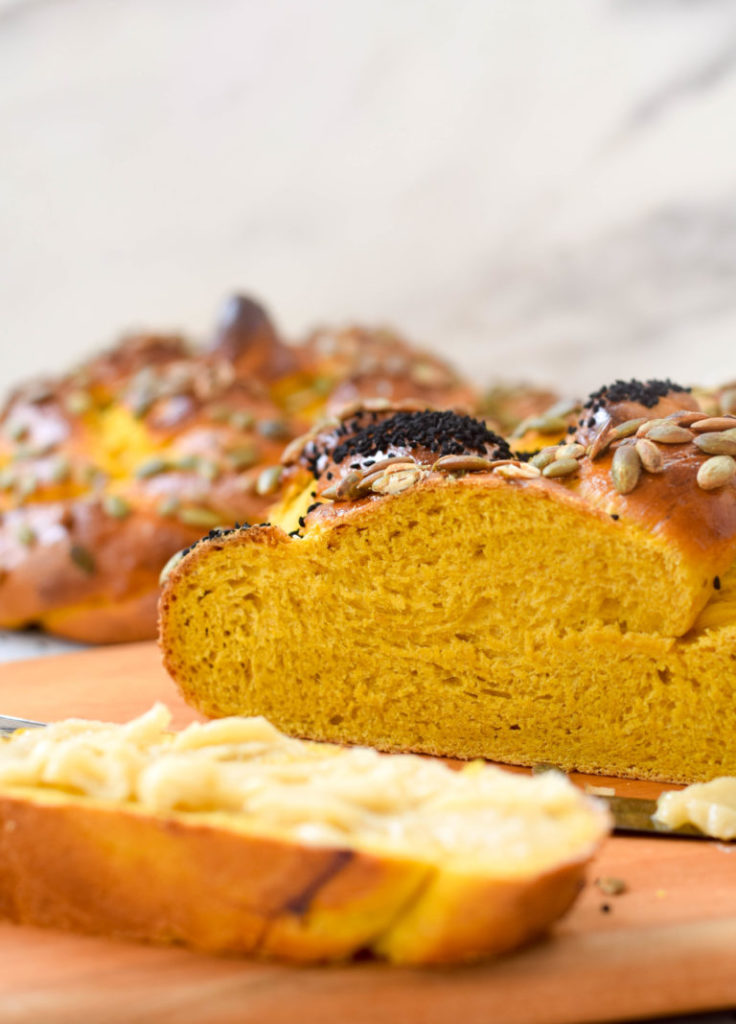 Pumpkin bread or pan de calabaza is beloved among Sephardic Jews. I think that this nation of pumpkin spice fanatics will embrace it as well. Pumpkin challah is no harder to make than regular challah and the beautiful saffron color and sweet taste will delight your friends and family. You can even double down on the pumpkin theme by topping the loaf with pepitas, or green pumpkin seeds. Sephardic Jews often snacked on pepitas, along with nuts and dried fruits, after Shabbat dinner.
Although this pumpkin challah would be especially meaningful on Rosh Hashanah, it would also be a welcome addition to your Shabbat table so long as it is pumpkin season. Or try it at Thanksgiving for an out-of-the-ordinary seasonal treat. If you are not kosher and freely mix meat and dairy, you can make a cinnamon honey butter to serve with your pumpkin challah.
Pumpkin Challah with Cinnamon Honey Butter
4 cups all-purpose flour
2 1/4 tsp instant yeast
1/2 cup water, approximately 110°F
1 cup pumpkin puree
2 eggs, at room temperature
1/4 cup vegetable oil
3 TB sugar
2 TB honey
1 tsp salt
1/2 tsp cinnamon
1/4 tsp ground ginger
Pinch each ground cloves and nutmeg
Pepitas, sesame seeds, poppy seeds or nigella seeds for sprinkling
10 TB butter, softened
3 TB honey
1/2 tsp cinnamon
Pinch salt
In the bowl of a standing mixer fitted with a dough hook, combine the flour, yeast, and warm water. Stir to combine. Add 1 egg, pumpkin puree, the vegetable oil, sugar, honey, salt and spices.
Mix the dough with the dough hook until a smooth dough emerges, about 3 minutes. Continue to knead for an additional 5 minutes, The dough should be smooth and elastic. It may be slightly tacky to the touch.
Place the dough in a bowl that has been oiled on all sides. Cover the dough with a clean cloth and allow it to rise in a warm place for 40 minutes to 1 hour or until almost doubled in size.
Divide into four equal parts. (I like to use my kitchen scale to ensure my pieces are of equal size.)
Roll each piece into a long, thin strand.
To create a round braided challah, place two of the strands next to each vertically on a board. Weave the remaining two strands horizontally over and under the vertical strands. (The result should look like a plus sign with no spaces between the strands.) There should be two strands pointing in each direction. For each direction, take the strand on the left and cross it over the strand on the right leaving no space between the strands. Next, do the same action going the opposite direction. Repeat crossing the strands over each other, alternating directions until you run out of dough. Take the ends and pinch them closed and tuck the under the loaf.
Carefully transfer the braided loaf to a baking sheet lined with parchment paper or a Silpat baking mat. Preheat the oven to 400.
Cover the loaf and allow to proof for 30 minutes to one hour. (To determine whether bread if ready for the oven, gently press with your finger, if the depression fills back up quickly, the bread needs to proof for longer. If the depression fills up halfway, the loaf is adequately proofed.)
Before placing the loaf in the oven, beat the remaining egg in a small bowl. Brush the egg wash on the challah, making sure to get in the crevices of the braids. Sprinkle with seeds if using.
Bake 15 minutes and reduce heat to 375. Bake an additional 15-20 minutes.
Allow to cool on a wire rack prior to cutting.
To make cinnamon honey butter, beat softened butter with honey, cinnamon and salt until combined. Place in a small serving dish. Serve at room temperature.