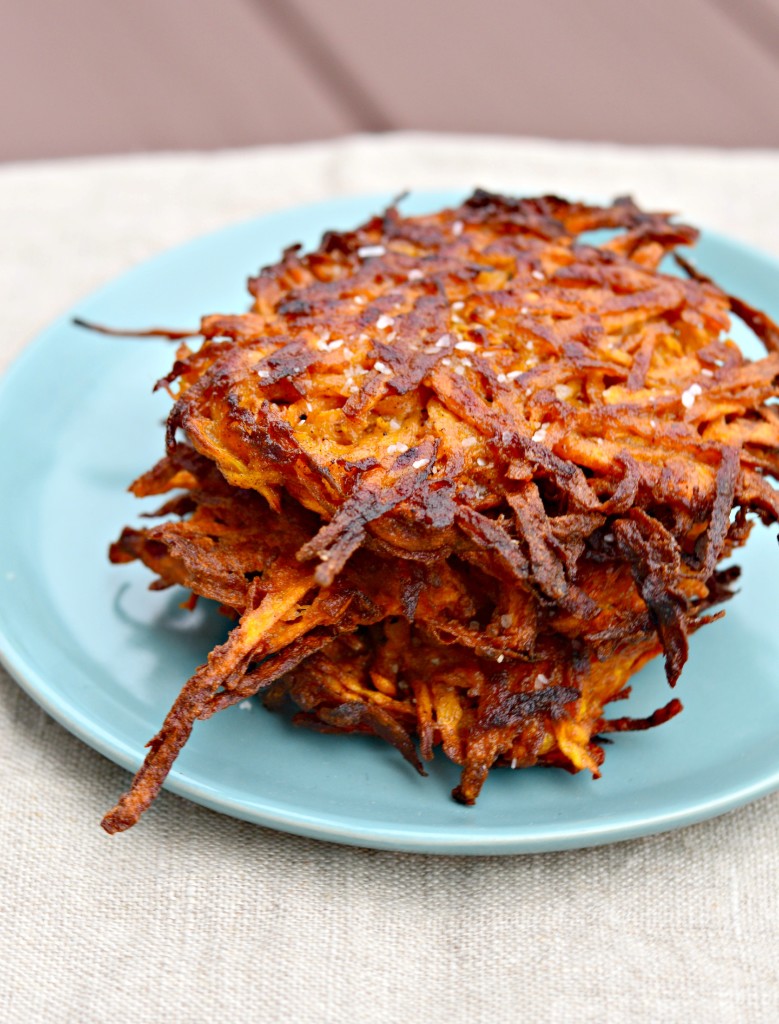 In early December, Jewish families around the world will gather together to celebrate Hanukkah, the festival of lights. Hanukkah commemorates the victory of a small group of Jews, the Maccabees, over the army of the Greek King Antiochus in the second century BCE.
After the Jews drove the Greeks out of Judea, they attempted to restore their temple, which had been destroyed in the war, only to discover that there was just enough oil to light the lamp that held the eternal flame for one day. The story is that a miracle occurred and the small amount of oil lasted for eight days, which was how long it took to make new oil. That is why Hanukkah lasts for eight days.
It is traditional to celebrate the holiday by eating food cooked in oil.  The most well-known Hanukkah food for Eastern Eurpoean Jews, like my family, are potato pancakes called latkes. Every Jewish family has their own carefully guarded latke recipe. Latkes are fattening — especially if, like me, you top them with sour cream — and the smell of oil lingers in your house for days. But they are absolutely delicious.
But what if you could make a slightly — and I do mean slightly — healthier version of latkes? You might start with some vegetable other than potatoes, for one thing. There are lots of recipes out there for latkes make with carrots, zucchini and other colorful vegetables.
For my healthy take on the latke, I start with sweet potato, which is loaded with antioxidants, such as beta-carotene, vitamin C, and vitamin E. Sweet potatoes also have a lower glycemic index than regular potatoes. Foods with low glycemic indexes, like sweet potatoes and brown rice, make you feel full and satisfied.
I bound the grated sweet potato with eggs and flour and seasoned it with warm spices like cinnamon, ginger and allspice. To top my healthy-ish latke, sour cream would not do. So I opted for plain Greek yogurt instead and added some heat to it using harissa, a spicy North African sauce made with chili peppers and garlic, that is beloved among Sephardic Jews. You can find prepared harissa in most good grocery stores, but homemade is even better.
While I will always still make potato latkes for the sake of tradition, sweet potatoes latkes topped with creamy harissa has already become a new, healthier tradition for my family.
Sweet Potato Latkes with Harissa Yogurt
1 cup plain Greek yogurt
2 TB harissa
1 1/4 lbs. sweet potatoes, peeled
1/2 cup all-purpose flour
1 tsp. salt
1/2 tsp. cinnamon
1/2 tsp. ground ginger
1/4 tsp. allspice
Pinch cayenne
2 eggs, lightly beaten
6 TB vegetable or other neutral oil
Combine the yogurt and harissa in a small bowl and refrigerate until needed.
Preheat the oven to 250 and line a baking sheet with foil.
Grate the sweet potatoes on the coarse side of a box grater and place the shreds in a large bowl.
In a small bowl, whisk together the flour, salt, and spices until combined.
Add the flour mixture and the beaten egg to the sweet potatoes and toss with a fork to combine.
Heat the oil over high heat in a large nonstick skillet.
When the oil is sizzling, turn the heat down to medium-high and scoop 1/4 cup of the sweet potato mixture into the skillet and flatten with a spatula. You can cook three to four latkes at a time, but do not overcrowd the skillet.
Flip the latkes when the underside is browned, about two minutes. Cook the second side for 1.5 to two minutes until browned.
Repeat with the remaining batter.
Cooked latkes can be kept warm in the oven until needed.
Serve warm with yogurt harissa sauce.