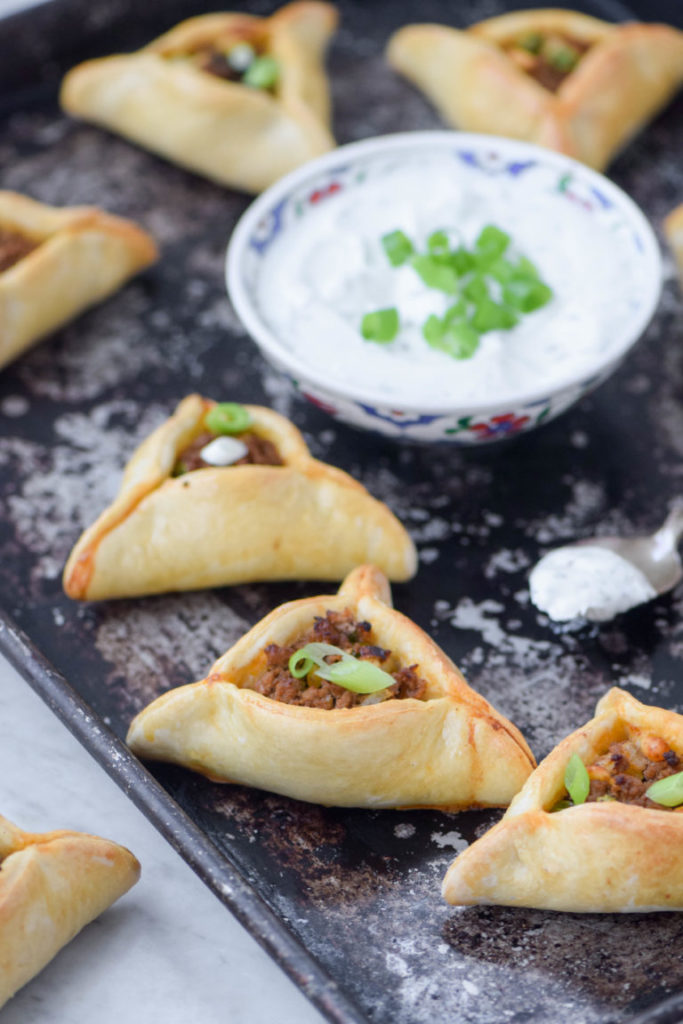 Early spring brings the Jewish festival of Purim, a carnival holiday where people are encouraged to dress in costume and make merry. Purim commemorates the deliverance of the Jewish people from an evil government minister, named Haman, who plotted to destroy the Jewish community in ancient Persia.
Hamantaschen, a triangular filled cookie, is the signature food of Purim for Ashkenazi Jews. The cookie's shape is said to come from the three-cornered hat that the villain Haman wore. As a cookie, hamantaschen have a bad reputation. All Jewish kids have been traumatized by eating a soggy, tasteless hamantaschen filled with unpleasant prunes or not-very-sweet poppy seeds. That is not what anyone is hoping for when biting into a cookie!
A different route is to make savory hamantaschen. Savory filled pastries have a long history in Jewish cuisine — for example, bishak, a savory pastry that is a specialty of Jews from Central Asia. In fact, my take on a savory hamantaschen uses the same yeast-risen dough as bishak. As for the filling, it is inspired by Sephardic, and specifically North African, flavors. I take ground lamb and season it with schwarma spice and a hint of that classic Middle Eastern ingredient, preserved lemons. A staple of Middle Eastern cooking, preserved lemons add a unique pickled tanginess to North African-inspired dishes such as this one.
I have added a yogurt sauce because I think savory pastries can be a bit dry without a sauce. A tomato sauce would also go well with the lamb filling. Or simply drizzle some tangy pomegranate molasses over the hamantaschen for a no-fuss sauce!
While I created this recipe for Purim, there is no need to limit savory hamantaschen to once a year. Savory pastries like these are marvelous for entertaining and snacking all year round. This recipe makes around two dozen little pastries and they are perfect finger food: easy to eat, hand-held and not messy or drippy.
Imagine what a perfect hors d'oeuvres or cocktail party bite these lamb-filled hamataschen would make. Plus, they even freeze well, so you can make them in advance. It is no wonder that savory pastries are a staple of mezze platters all over the Sephardic world.
Lamb-Filled Hamantaschen
Dough
2 tsp instant or active dry yeast
1 cup plus 2 TB warm water
Pinch sugar
3 1/2 cups bread flour
Pinch salt
1 TB extra virgin olive oil
1 egg
Filling
2 TB extra virgin olive oil
1 small yellow, finely diced
2 cloves garlic, minced
1 lb ground lamb
1 TB tomato paste
1 TB chopped preserved lemon
1 tsp schwarma spice
1/2 cup peas (frozen is fine)
2 TB pine nuts
Yogurt Sauce
3 to 4 cloves garlic, minced
Juice of two lemons
Pinch salt
2 cups plain Greek yogurt
2 tsp dried mint
Preheat oven to 350.
Prepare the dough: if using active dry yeast, dissolve the yeast with a pinch of sugar in 1/2 cup warm water and leave for ten minutes until it froths. (If using instant yeast, skip this step and mix instant yeast directly in with the flour.)
In a large bowl, combine flour, salt, oil and egg and add the yeast mixture. Mix with a fork and work in remaining water as needed for dough to hold together.
Knead for five to ten minutes until dough is smooth and elastic.
Place dough in well-oiled bowl, cover and set aside in a warm place to rise until doubled, about one hour to one hour and fifteen minutes.
While the dough is rising, make the filling. Heat the olive oil over medium heat in a large saucepan.
Saute the onion until softened, about five minutes. Season with salt and pepper.
Add the garlic, lamb, tomato paste, preserved lemon, and schwarma spice and cook, stirring, until the lamb is no longer pink.
Add the peas and pine nuts and saute a few additional minutes until the peas are heated through and the pine nuts toasted. Taste and add salt and pepper if needed. Set aside.
When dough is risen, punch down and divide into four pieces. Keeping other pieces covered, take one piece and roll it out on a lightly floured board as thinly as possible.
Cut dough into 4-inch rounds. Gather up any dough scraps and roll those out as well. You should have 6-7 rounds of dough.
Place a heaping tablespoon of filling into the center of each round.
Using two hands, fold in two sides of the circle and pinch together. Fold up the bottom side of the triangle and pinch all three corners together. (Close well or pastries will open up when baked.) Repeat with remaining dough and filling.
Place filled pastries on a baking sheet lined with parchment paper or a Silpat baking mat.
Beat egg with one tablespoon of water. Brush pastries with egg wash.
Bake pastries for 25 minutes until golden brown. Cool on a wire rack.
While pastries are baking, make yogurt sauce. Combine minced garlic, lemon juice and salt in medium bowl and allow to stand for five minutes to soften raw garlic flavor.
Combine garlic mixture with the Greek yogurt and mint. Season well with salt and pepper. Drizzle with extra virgin olive oil.
Serve warm or room temperature with yogurt sauce.
Leftover pastries can be stored in the refrigerator for several days. Reheat or toast before serving. Pastries can also be wrapped well and frozen. Thaw and reheat before serving.