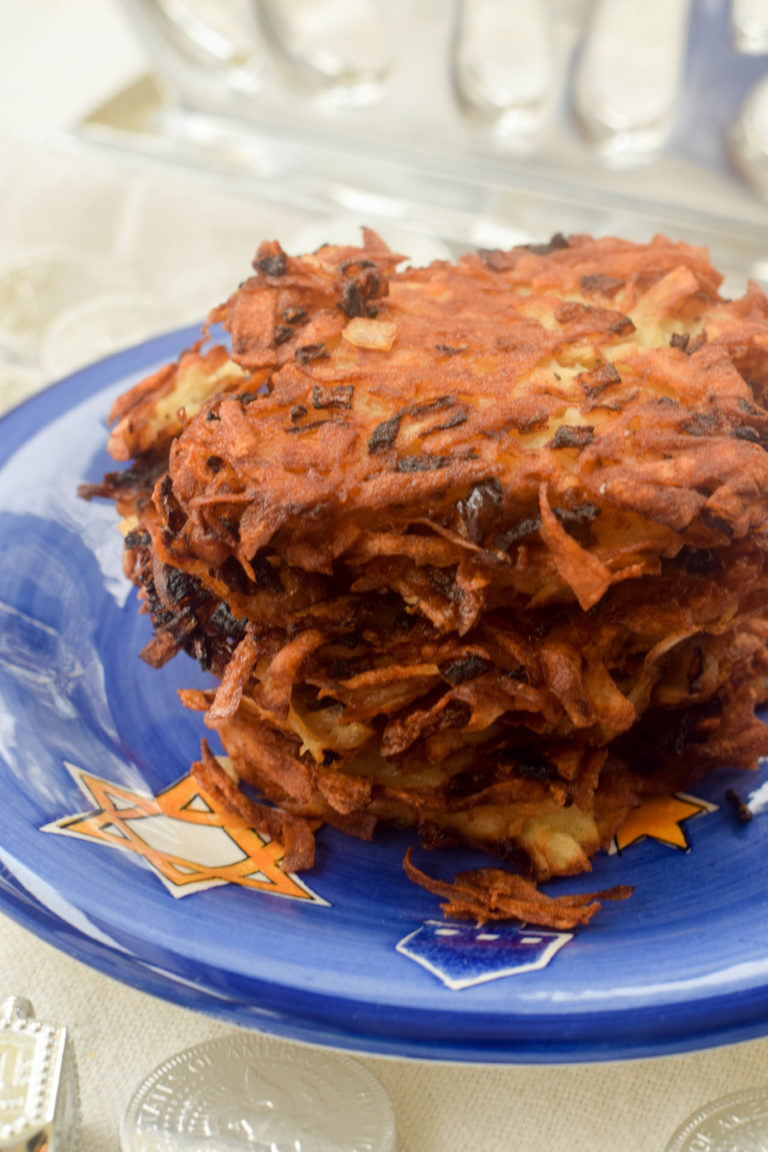 The most well-known Hanukkah food for Eastern Eurpoean Jews are potato pancakes called latkes. Every Jewish family has their own carefully guarded latke recipe. Latkes are fattening, a pain to make and the smell lingers in your house for days. They are also absolutely delicious. So, it is okay to indulge in these holiday treats once a year.
Latkes are typically made by grating potatoes, adding some minced onion and salt and pepper for flavor, binding the mixture together with egg, and frying the batter in oil. Some people add flour or matzo meal to make the latkes hold together better, but I think doing so takes away from that lacy, crispy potato texture.
The secret to making latkes, in my opinion, is to squeeze as much liquid out of the grated potato as possible. The liquid will make the pancakes dense and soggy, which is not what you want.
It is traditional to serve latkes with applesauce or sour cream and the two camps are bitterly divided. (I'm sour cream; my husband and daughter are strictly applesauce.) If you are a applesauce partisan, be sure to check out my recipe for Cranberry Applesauce. But however you serve them, latkes are a Hanukkah tradition that even non-Jewish families can enjoy!
For a (slightly) healthier, nontraditional take on the latke, be sure to check out my recipe for Sweet Potato Latkes with Harissa Yogurt.
Happy Hanukkah everyone!
Classic Potato Latkes
2 large Russet potatoes, peeled
2 large eggs
1 yellow onion, finely minced
Salt and pepper
A neutral oil with a high smoke point for frying, such as canola, peanut or grapeseed. (Olive oil is not recommended because of its low smoke point.)
In a large bowl, beat together two eggs and then add the onion.
Grate the potatoes using the largest holes of a box grater and place the shreds in a colander.
Pick up a handful of shredded potato and squeeze out as much liquid as you can. Then add the drained shreds to the bowl with the egg and onion. Repeat this process until you have squeezed all the potato shreds and added them to the bowl.
Season well with salt and pepper and toss to combine.
Meanwhile, pour a thin layer of canola or vegetable oil in a large, deep skillet and heat over high heat until shimmering. (You're aiming for 360 to 375 degrees.)
Scoop a 1/4 cup of the batter and form it into a patty. Gently place the patty in the skillet and flatten it with a spatula.
You can fry up to three latkes at a time but don't overcrowd the skillet.
Fry until brown and crisp on bottom, about two minutes, and then flip. Remove when the the other side is brown and crisp.
Place on a plate lined with paper towels to drain.
You may need to lower the heat if your latkes are burning. You may also need to add more oil. If the oil becomes very dark and there are many burnt pieces in the pan, it can make your latkes bitter. Pour out the oil into a heatproof container and add fresh oil. Allow new oil to become hot before continuing.
You can keep the latkes warm in a 250 degree oven while you finish frying the batter. Serve immediately once all the batter is cooked.
Serve with applesauce and sour cream.